Earn More By Retailing Comfortable RV Mattresses!
Did you know the mattress is one of the first items to be replaced by RV owners?
Are your customers buying their RV mattress from you or from someone else?
Imagine the extra revenue you could generate by retailing comfortable mattresses to every customer that purchased a new or used RV.
Mobile Sleep Components authorized dealers enjoy the following: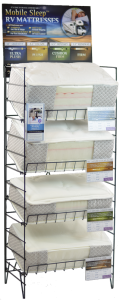 Vertical Display Fits Almost Anywhere!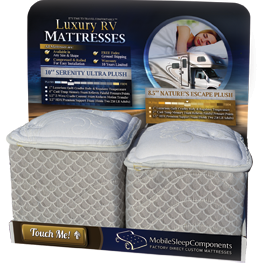 Optional Referral Program
For your first calls, you can even call us with your customers on the phone.
Just let our experienced mattress experts close the deal for you over the phone so you learn the process, and you can earn a commission from each sale!
Need An Odd Size or Shape?
You can order a mattress with cut corners, radius corners, & curved edges!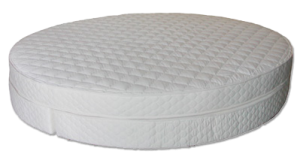 Mattresses can be Roll-Packed for economical Fedex Ground shipping anywhere in the continental US!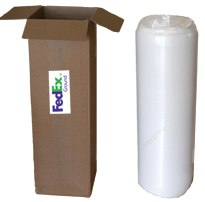 Simply remove the plastic wrapping & the mattress will expand to it's full size in about 3-4 hours!