Since 2008, Mobile Sleep™ Components has specialized in offering unique and custom sized mattresses & toppers for the RV, Trucking, Boating, Aircraft, and Furniture industry.
Our sales, customer service, marketing, R&D, and accounting team are based out of Colorado and our manufacturing team is based in South Carolina.
Mobile Sleep™ has dealers in 35 states across the US. Whether you're a small rv dealer placing only one order per month or a parts distributor/manufacturer needing several hundred per week, Mobile Sleep™ Components is scaleable and equipped to handle your needs.
We offer high quality, durable, and technologically advanced components like gel infused foam, plant based memory foam, dunlop/talalay latex, super soft, and polyurethane foam made by leading foam manufacturers like Hickory Springs, FXI, Flexible Foam, & Future Foam. We can provide quilted tape edged or removable stretch knit zippered covers. We use high quality fabrics like Cool-Max, Organic Cotton, Bamboo, and Luxury Knits.
We strive to be environmentally friendly by using plant based foams whenever possible, water based adhesives to bond our foams, and we ship via Fedex Ground instead of LTL to further reduce our carbon footprint.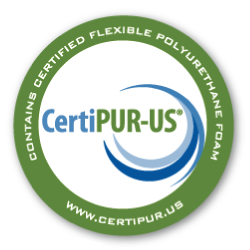 We use foams certified by Certipurus in all of our products:
The CertiPUR-US® program is a voluntary testing, analysis, and certification program for flexible polyurethane foam used in home furnishings. Certified flexible polyurethane foams have been independently tested and certified to be:

We're a proud supplier member of RVIA!
In the November & December 2013 issues of RV Pro Magazine, our 10″ Serenity Ultra Plush RV Mattress will be featured in the RVIA Show Product Showcase of what dealers should look for in Louisville.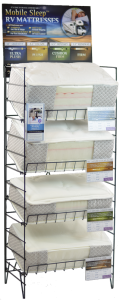 We're proud to announce that in the January 2014 issue, our POP Floor Display will be featured as a "must have" floor display for every RV parts/service center.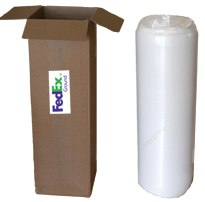 Through our patented pending roll-pack shipping method, we're able to offer our customers a competitive FedEX drop ship program eliminating your need to carry inventory. In fact, you can start earning extra income immediately with zero startup costs.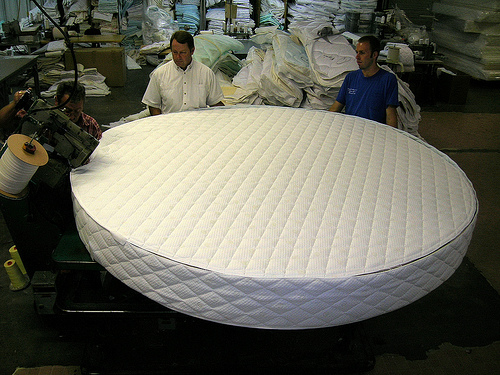 We have custom made everything from standard 60 x 80 queen mattresses between 3″- 16″ in depth to custom boat mattreses designed to fit into an unused hot tub on the back of a yacht.
We can even do the odd shaped mattresses for Airstream RV's. It's time to sleep comfortably while being on the move!
Let us help you earn more money while making your customers more comfortable.