It's a well known fact in our industry:
OEM RV mattresses really suck!
I mean…your customer spends $80k on a new motorhome… and 9 times out of 10, the mattress is like a medieval torture device. Right?
There is no question that there is a huge opportunity for you in aftermarket RV mattresses. But what supplier should you go with?
Of course, I think you should go with Mobile Sleep Components (I'm a little biased being the owner). But I'm also willing to consider that maybe Mobile Sleep Components isn't the best option for your needs.
So, I've put together a list of some things you should consider before you make your decision.
Feel free to click on these links and they'll jump you down the page with some more info:
7 Questions You Should Consider Before Choosing Your Mattress Supplier

Do they offer a trial period or money back guarantee for your customers?
(i.e. What happens if your customers don't like the mattress)
This is a really important question to ask any potential mattress supplier. You don't want to be stuck with a big bulky mattress if your customer decides they don't like it.
The vast majority of suppliers aren't willing to offer a trial period. The ones that ARE willing to do it will probably make your customers package up the mattress and ship it back. Which…
…is a joke. The LTL freight to send it back will usually cost more than what they paid for the mattress!
What Mobile Sleep Components does differently is offer a 30 trial period. If your customer decides, during the trial period, that they don't like the mattress, they are able to donate it to a local charity in their area. This is a really unique benefit of buying from Mobile Sleep, and you get to pass this along to your customers.
Mobile Sleep Components has offered this mattress trial period for around 9 years now, and it's dramatically increased our dealers' sales. You may get a few customers who request returns through offering a trial like this, but the uptick in mattress orders far outweighs the risk.

Should you buy directly from a mattress manufacturer or from a RV parts distributor?
Speed may be faster
Your parts distributor might be able to get you a queen short mattress faster if there is a warehouse in your area. However, the benefits of going through a distributor (instead of direct with a mattress manufacturer) pretty much end right there.
Through a distributor, you're going to end up paying a middleman. And with the recent consolidation of parts distributors, buying a mattress from a distributor can often mean multiple middle-men. However, when you buy directly from a mattress manufacturer, the cost savings can be quite substantial. This is especially true when comparing apples to apples in terms of the quality of the mattress.
Mattress manufacturers can sell higher quality at the same price point:
In order to hit a reasonable price point, parts distributors usually opt for a low quality product build that looks nice, but is inferior to a product being offered by a manufacturer at the same price.
Customer service is better with a manufacturer:
In addition, when there is an issue that arises or a question about a mattress, would you rather talk to someone who knows that product like the back of their own hand (RV mattress manufacturer) or someone who deals with tens of thousands of other skus (distributor)?

Will they (Mattress manufacturer/parts distributor) dropship one mattress at a time anywhere in the USA, or do they make you stock mattresses in your parts department?
Ideally, you want both of these options.
The Queen short size (60×74 or 60 x 75) moves off the shelf pretty quickly. You're more likely to make a sale if you have one or two on hand for cash and carry.
For all other sizes though, it makes more sense to dropship.
And by dropship, I mean, ship directly from the mattress manufacturer to anywhere else in the USA (not just to your store). If you want to avoid unpackaging the mattress for the customer (some dealers really like this option), it's nice to be able to ship it to their house/campsite, instead of the dealership.


Do they (Manufacturer/distributor) ship your mattresses compressed and rolled via Fedex/UPS ($) or do they ship flat via an LTL Carrier ($$$)?
When a mattress is shipped compressed and rolled, it fits into a tiny box and can be shipped through FedEX/UPS.
The advantages of compressing and rolling mattresses include
much lower shipping costs built into the product
return shipping (when a customer orders the wrong size)
Basically, compressing and rolling mattresses is better, whereas LTL is NOT. 🙂
Warranties generally range anywhere between 1 to 10 years and can be pro-rated (replacement value decreases over time) or non-prorated (value doesn't decrease).
Most mattress warranties cover impressions in the mattress which exceed 1.5" in depth. The warranty usually does not cover defects in the mattress cover, or comfort (i.e. how the mattress feels).
The process of filing a warranty varies widely among suppliers and manufacturers. Some (like us), just require emailed photographs proving there is a defect.
Other suppliers may require you to ship the product back for inspection. They may even require you to pay for a mattress inspector to visit the customer and make their own determination if the mattress is defective. This can often make the return impractical, time consuming, and frustrating for you and your customer, as the return shipping costs can be more than what the customer paid for the mattress.

Can they make custom RV mattresses?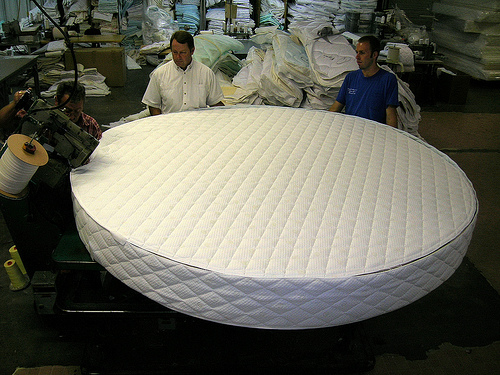 (i.e. radius corners, cut corners, Airstream sizes, etc.)
In used units, 70% of the RV mattresses being replaced fall outside of the more common short queen (60 x 75) or RV queen sizes.
Some custom mattress sizes can include:
Three quarter size (48×75)
Sofa mattress size (60×72)
Class C overhead bunks (can be many different sizes)
Class C Queen Sizes with cut corners (can be many different sizes)
You want to work with a supplier that can make these sizes and shapes for you, at a reasonable cost, and with a decent turn around time.

What is the quality of the mattresses they are selling you?
(Foam density, quality materials, where are their mattresses made, etc.)
Why does density matter? It determines the quality of the foam being used. More importantly for your customer (and your reputation with your customer), foam density affects how long the mattress will last.
Mattresses using low density foam will result in more service and warranty issues for you to deal with (months or years down the line).
There are some suppliers using low density foams (1.5 or 1.2 LB) which are intended for sofa seat cushions and NOT for mattresses.
Why do they do this?
Because It's much cheaper for a mattress manufacturer to use 1.5 lb foam than it is to use 1.8 LB foam (1.8 lb foam is an industry standard for residential mattresses, but manufacturers get away with using the cheaper stuff in RVs).
And you..the dealer (or your customer), initially can't tell the difference because the foams feel identical (assuming all other foam specs stay the same).
There are of course lots of other things to consider as well. Where is the mattress fabric made and of what? Does the product line have a step up story (meaning, can you sell your customers mattress options that are good, better, best, etc.
The answers to these seven questions should help you choose which mattress supplier will supply your customers with the best night's sleep . . . and your dealership with extra income.
Is your dealership looking for a mattress supplier?
We can help!
Give us a call: (877) 785-3716
or
email us: orders (at) mobilesleepcomponents.com
Jonathan Prichard
Founder & CEO of Mobile Sleep Components
PS: Mention this article when you sign up and we'll send you a special Sign Up Bonus!